Written by Max Blumenthal
Thursday, 31 October 2013 09:38
On October 1st, New York Times bestselling author and journalist Max Blumenthal released his latest book, Goliath: Life and Loathing in Greater Israel. To purchase the book, click here.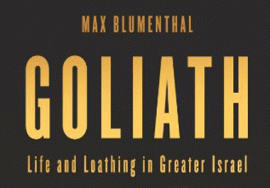 Goliath, according to Adam Hochschild, is "brash, gritty, personal and close to the ground...a report from an Israel and a Palestine we seldom see in the mainstream media." Blumenthal takes us on a journey through the badlands and high roads of Israel-Palestine, painting a startling portrait of Israeli society under the siege of increasingly authoritarian politics as the occupation of the Palestinians deepens. The book is already receiving significant attention and has been positively reviewed by Kirkus Reviews: "A rich, roiling examination of 'the State of Israel during a period of deepening political and societal crisis' ... Blumenthal is an enterprising reporter."
In an article for Al-Monitor, Akiva Eldar — a former chief political columnist and editorial writer for the Israeli newspaper Haaretz, where he worked for 35 years — writes,
Unlike most Jews — American or Israeli — Blumenthal chose to leave his comfort zone, go into disputed territory and examine the burning questions for himself. In fact, Blumenthal's greatest strength and interest is in events on the ground and the people who live there, far from the 'peace process' and diplomatic salons.